Online Business Ideas Globally: A business at its start is not big and successful at the beginning whether it's online or traditionally established. Many successful companies and brand began their setup as small and are now have been recognized globally.
Having an established business of your own is also attractive and satisfying, but there are also a lot of issues and challenges to face. An online business does not need experience or perfection to get started.
For any ambitious businessman running an online business can be a dream because it provides them with financial security and independence. They don't need to buy physical goods but only require skills.
Here we have gathered some suggestions to lets you begin your online business and enjoy its benefits like flexibility, freedom, and security.
Ideas for online business globally
1. SEO Consultancy
With the rise of online e-commerce, almost every company, or organization has a website. Having SEO (Search Engine Optimization) skills, you can begin a consulting company for businesses that have web pages.
As online marketing is becoming busy, many companies are interested to turn seekers into their regular customers and need to do better than their competitors. SEO consultancy is the highly demanding in digital world, that is why it stays at the top of online business ideas.
Only some professionals have deep knowledge about techniques. So let's get started with your business if you have skills related to this field.
2. Create a YouTube Channel
As a result of 4 g network availability, the growth of video content has been massively increased. Because of the access to affordable mobile and cheap internet, every person who has a phone can access YouTube anywhere and whenever they want.
The online video-containing site has become a company. Compared to the past, making videos is much cheaper now. A smart idea or topic that will engage your viewers and a smartphone is all you required.
You will get the payment according to YouTube's income model. This idea is much more profitable, with a huge amount of space to grow, and is still relevant.
3. Sell your Art
Many websites offer you to sell your art like painting and photography or music. If you have the greatest strength like painting and Photography, you can sell your art pieces that people can order and add to their environment or sell through websites printing as posters and banners.
If music is your art? Then record tracks, tunes, and clips, and let's get started by selling your talent as digital downloads.
To display your art, by creating a website. You have a chance to earn through your passion and live life the way you choose.
4. Serve as a Translator
Understanding more than one language can also be a source of income. What you have to do is to start an online translating website. The requirements are a laptop and internet access. During the last ten years, the market and scope for the translation sector have increased.
You have to just translate some resumes, applications, and interviews for required web pages. The charges schemes will be according to your projects or as per assignment. So once you start, it can be successful and versatile.
5. Freelancer as a Designer
If you have a good sense of design aesthetics? Or if you have attended an art school or you can use Photoshop or Illustrator to create posters as your hobby.
Then you have a fascinating opportunity to become a freelance designer. This is one of the best and perfect ideas to start an online business.
Make an impressive and strong portfolio and build a reputation, so that customers are attracted to you. Take your customer at your speed. Once you begin it, you will enjoy its various advantages of it.
6. Podcasting
The modern alternative to radio shows is podcasting. This idea is best for those who is not only talking but also expert.
In podcasting, your communication skills must be ideal as you have to produce content that people want to listen to. The topic should be entertaining as well as informative. Try to engage your audience emotionally.
Try to use other platforms like Facebook, and YouTube to increase listeners. Invite your podcasting friends to participate as guest stars. This can be time taking to be so popular to earn, so be patient.
7. Affiliate Marketing
If you have a successful online channel, well-liked blog, or YouTube channel, or on the other any social media platform Affiliate marketing, allows you to "rent" your audience to other companies. Paid advertisement is most common today and you can do it through multiple variations.
If you are popular on any of your social accounts or have a famous blog, for example, you have to just write about yourself or even just included a link to your webpage in a nice and glowing way, in your profile. Businesses will pay you according to the contract.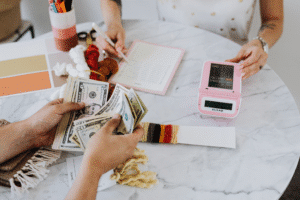 The more traffic you can create, the more you will be paid. For effective online advertising, you need an existing source of web traffic.
Capabilities to attract more customers from its primary audience depends upon Understanding with whom you are affiliated, which will allow you to customize your website.
To manage your cyber security or IT consultancy firm from any place a properly installed PC is something you require.
8. Accounting or Bookkeeping
With the increase in competition with international competitors, getting into the business as an online bookkeeper or accountant might be difficult but still many organizations offer these services.
If you are currently working as an accountant, accept your current clients and offer them the to reduce their bills, by working at home or from anywhere else.
Formal qualifications and certifications will obviously involve this kind of internet business, but if you're an expert and committed accountant, it wouldn't be such difficult to be able to work from home.
9. Cyber security or IT consultancy
If you are interested in technical knowledge but are not don't want to be in coding or web development, this can be the business idea for which you are looking. These are all possibilities for cyber security professionals.
On the other hand, if your favorite is a little more basic, you can perform the job as a simple IT consultancy. Your work will include providing basic operating advice, solving any issues, help people or businesses to arrange their equipment.