Afghanistan vs Australia Live Match 2023
Afghanistan vs Australia: In today's cricket match between Afghanistan vs Australia Live Match at the ICC World Cup 2023 in Mumbai, a surprising turn of events has unfolded. The Afghan team seems to be gaining the upper hand in a fascinating battle.
MAXWELL LED HIS TEAM TO VICTORY!
Australia pulled off a remarkable feat by chasing down 292 runs, despite being at 91 for 7 earlier in the game, to secure their spot in the semi-finals.
Maxwell delivered an astonishing performance, scoring 210 runs off just 128 balls, all while battling painful cramps. He sealed the victory with a six and also reached a double-hundred in this incredible inning.
Australia wins by 3 wickets
In this chase for 292, Cummins played a vital role, staying unbeaten with 12 runs off 68 balls and ultimately being on the winning side.
The match was so unbelievable that it felt like a dream!
And now, someone, please send a bed or stretcher out there for Maxwell, and make sure he gets some much-needed fluids to recover.
Score: australia 293/7 : 46.5 Overs (WINNer)

Target: Afghanistan 291/5 : 50 Overs
Why Maxwell can't run?
Maxwell is in incredible form, even though he's struggling with movement. He's smashing the ball all over the field! He used a reverse lap to score six runs and a powerful pull shot for four between long-on and deep midwicket. Whenever there's a gap, Maxwell finds a way to hit the ball there.
Maxwell and Cummins have decided not to run between the wickets. So, Maxwell is facing most of the overs at one end, mainly from Azmatullah Omarzai, while Cummins is handling Noor Ahmad's left-arm wristspin. In the 42nd over, Maxwell hits two fours against Omarzai, and even though other shots reach the fielders in the deep, they avoid running. Cummins plays out a maiden over. Then, Maxwell faces Omarzai again, scoring 15 runs in the over, including a single off the last ball!
With just 32 runs needed from 36 balls, the match at Wankhede is becoming quite a spectacle!
150 comes up for Maxwell | Afghanistan vs Australia
Glenn Maxwell has achieved a remarkable feat by becoming the third batter to score over 150 runs while batting at No. 6 or lower in a cricket match.
Furthermore, this partnership between Maxwell and his teammate stands as the highest ever recorded for the eighth or lower wicket in men's One Day Internationals (ODIs).
Maxwell stays resilient with cramps
Australia faces a challenging situation now. They need to score precisely one run per ball in the last 10 overs, but there's a problem: Maxwell is struggling with cramps. It got so bad that when he attempted to go for a single with a fielder at the boundary, he could barely take a proper step. He ended up rushing, and the throw came in, causing concern among the umpires and the Australian team physio who rushed out to check on Maxwell.
Up until that point, it seemed like Maxwell might have been able to hit a four or a six every over and manage to get a single or two to stay on track. Maxwell receives some treatment, and it appears he's determined not to leave the field. The question is, can he continue in this condition and lead the team to victory?
Maxwell reaches his century in no time
Not too long ago, Maxwell celebrated his half-century, and not much later, he reached a remarkable century in just 76 balls! Here's how he did it:
He went from 0 to 50 runs in 51 balls, hitting seven fours.
Then, from 51 to 100 runs, he only needed 25 balls, achieving it with three fours and three sixes!
Maxwell's brilliant performance and confidence have rejuvenated Australia in the match. With 35 overs played, Australia now needs to score around one run per ball, which is 92 runs from 90 balls, but they have just three wickets left.
Read Also: Can the Netherlands Upset England?
50 Come Up from Glen Maxwell
Glenn Maxwell is showing resilience, reaching his third World Cup half-century with a well-placed boundary.
Australia's situation worsens, while Afghanistan inches closer to a historic victory
Australia faced more setbacks, and Rashid Khan played a crucial role in delivering two blows. The first wicket was taken in typical Rashid fashion – he bowled a tricky googly that left Stoinis attempting a reverse sweep but failing to connect. Although Stoinis challenged the umpire's decision, the review upheld the dismissal.
In matches between Stoinis and Rashid in international and T20 cricket, they have faced off 63 times, resulting in Stoinis being dismissed six times, with an average of 11.67. Rashid has demonstrated exceptional control with a percentage of 65.1%.
The second wicket was rather unusual for Rashid. Mitchell Starc appeared to have nicked a ball outside off, and the wicketkeeper, Ikram Alikhil, took a stunning reflex catch on his second attempt. The umpire signaled Starc out, and Starc chose not to review the decision. However, later analysis using UltraEdge revealed that he did not actually edge the ball.
Exactly what Australia didn't expect or desire
Australia found themselves in a tough spot during their cricket match. After playing 14 overs, they were only at 69 runs with 4 players out. To make matters worse, Afghanistan introduced their star player, Rashid Khan, into the game. Rashid Khan bowled a regular delivery, but Maxwell, the Australian batsman, tried to take a quick single by pushing the ball towards midwicket. However, there was confusion between Maxwell and Labuschagne, another Australian batsman.
Maxwell had already left his crease, and Labuschagne hesitated. As they tried to decide whether to run or not, Maxwell was caught halfway down the pitch. Labuschagne then decided to go for the run, sprinting down the wicket and diving to reach the crease.
Unfortunately, Rahmat Shah, a fielder from Afghanistan, had thrown the ball from midwicket. Although it wasn't the fastest throw, it was accurate and hit the stumps. The bails lit up, indicating that Labuschagne was out. Replays confirmed that Labuschagne's bat was not inside the crease; it was just above the crease. This unfortunate turn of events resulted in Australia losing their fifth wicket, and Rashid Khan had not even bowled yet.
Australia's score was now 69 for 5, and they faced a challenging situation
Afghanistan's Azmatullah Omarzai, who is not traditionally their primary swing bowler, has taken charge of the situation. He's demonstrated excellent swing and precise pitching to outplay the Australian batters. After initially conceding 14 runs in his first over, he roared back with a maiden over against David Warner, leaving the Australian opener struggling to connect.
Omarzai's third over was particularly noteworthy. He unleashed a ball with tremendous swing, catching Warner off guard. Warner attempted a heave on the leg side but was completely deceived, and his off-stump was knocked over. Omarzai, known for his out-swinging deliveries for right-handers, continued his dominance, dismissing Josh Inglis with a well-executed outswinger. This sudden turn of events has left Australia in a difficult position, with a score of 51 for 4 after nine overs.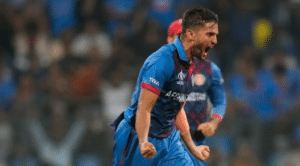 Naveen Did It Again | Afghanistan vs Australia
In the earlier part of the match, Naveen-ul-Haq, who had previously removed Jos Buttler in a historic win against England, struck again by dismissing the big-hitting Mitchell Marsh. Naveen's accurate delivery jags back in towards the stumps, leaving Marsh no chance. The intensity of the match escalated as Warner and Rashid had a tense exchange, and Marsh's dismissal led to some on-field confrontation. The atmosphere at Wankhede Stadium is electric, and as the saying goes, "It's all happening." Australia's score currently stands at 43 for 2 after six overs.
Naveen-ul-Haq continued his impressive performance, taking another wicket by deceiving Travis Head, who edged the ball behind. This remarkable display of swing bowling has raised questions about the absence of Fazalhaq Farooqi in Afghanistan.
Afghanistan has posted a competitive total of 291, and their batsmen have displayed some remarkable shots, including a stunning pick-up flick for six by Ibrahim Zadran and Rashid Khan's aggressive hitting. The team accumulated 75 runs in the last six overs, setting their highest score at an ODI World Cup. Australia, known for its strong bowling, conceded 64 runs in the last five overs, marking a significant turn of events in the match.
The ICC World Cup 2023 continues to provide thrilling cricket moments, and the match between Afghanistan and Australia is no exception. The competition remains intense, and cricket fans are in for an exciting spectacle.